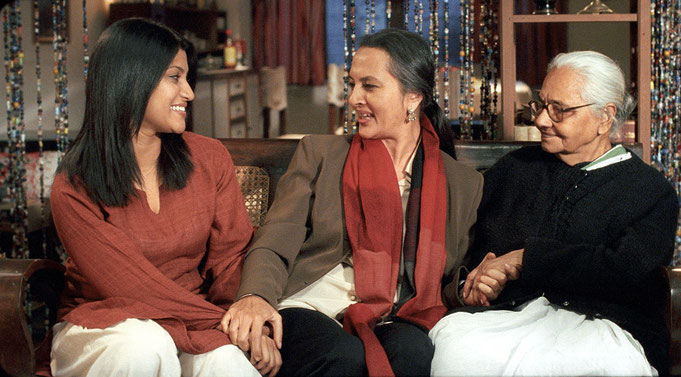 The film deals with a repressed and dark chapter of Indian histroy in 1984, when the Prime Minister Indira Ghandi was killed by her Sikh-bodyguards. The incident provoked high politicians to use this for provoking a campaign against the Sikh minority in New Delhi that lead a terrible backlash. More than 5000 people were reported killed by the incited crowd. Their houses were burnt – even the houses of Hindus who wanted to protect their neighbors were not spared.
In every image of Amu we feel concerned, which can´t be achieved in cinema just because of a collection of facts. Like in the films by Ritwik Ghatak or Cambodian Rithy Panh, this human concerns find its cinematic form in a natural way.
During the opening titles we hear sounds from an airport. And before the film begins it shows the machine-like character of cinema which allows us to travel through time and space and which creates a very special space for imagination.
Kaju is a young Indian woman grown up in the USA. After finishing her studies, she returns to her native country. She visits the family of her foster mother Keya who had emigrated with her to America when she was a little child. Her parents she is told died under an epidemic in a village. She tries now with the assistance of her video camera tracking places and things which shall help her to remember. She is received by this family in New Delhi like one of their own. But though, underneath it seems that she is a stranger She converses mostly in English with American accent and wears western clothes which obviously provoke attention.
At the beginning the film has a more episodic narration. Like Kaju we have just arrived and like her we try to get familiar with places and a lot of other strange impressions. Like Kaju, we see at the first sight banal things and places which do not tell us much. Slowly bit by bit it becomes obvious that Keya and her family try to keep her away from certain places. Kaju does not find the very place supposed to bring back her memories. The strange behavior of her foster family confirms her doubts and causes more questions in her than answers. Kaju´s image about her own biography opens cracks. The credibility of her own story is questioned more and more by herself. It is a little bit like the story of Madeleine in Hitchcock´s masterpiece Vertigo.
Kaja is attracted in a ghetto in New Delhi which seems strangely familiar to her with its small lanes and houses. While visiting this ghetto she wins the friendship of a family. Rather like in trance and following an impulse she slides gradually in the precipice of her past. Gradually and surprising, the films seems to turn into a tight net composed of images and signs in which every detail becomes important.
Wherever a film deals with memories, I have to recall the "beings of time" by Marcel Proust of which human identities are composed. And these "beings of time" begin to have a life. Of their own. With sudden violence they occupy Kajus consciousness with fragments of memories. We feel it through strong image,- and sound montages which come over Kaju like inner earthquakes. There is a sequence that seems like a rupture in the world and where we sense almost physical Kaju´s hidden pain: she looks at a railway passage where a noisy train passes by. In a film theatre on a big screen it appears like gigantic Laterna Magica. Behind the train we see an irritated and scared woman who looks for help. Kaju is irritated and almost dizzy from this vision. For now the rupture is closed but the world won´t be the same for Kaju as before.
The family story which began episodically turns now into a thriller-like intensity and at the same time it becomes a search for the truth like in Orson Welles Citizen Kane.
The time of doubting begins.
She learns that the epidemic under that her parents seem to have died is pure fiction. A track leads her to the 1984 riot against the Sikh minority in New Delhi. Her biography like it is told to her is a lie. Kaju and this film have to tell her story once again. And we like Kaju, who often believe blindly in stories told in films have to re-define our own place in this cinematic universe. What became of her parents? Where they victims or perpetrators?
There is the small idea of a love story between Kaju and Kabir, a son of a very powerful politician. But it brings little ease because of the involvement of Kabir´s father in the agenda of 1984. There are not only the flashbacks or verbally narrated memories that pitch Kaju more and more into the mental state of an irritated child. These different "beings of time" are visible in the beginning. Kaju learns to believe that And Konkona Sen Sharma embodies in the truest meaning of the word her character Kaju. On a big screen this tiny young woman has an almost "Orson Welles-like" presence.
The film moves like a time machine backwards to the tragedy of 1984. When so much films dealing with grim subjects turns knotty – the director Shonali Bose is managing the delicate balance between consequence and sensibility with a purity of feelings. Even though her atitude is explicit, she does not give up her gentleness.
Finally, Kaju is told by her foster mother the real story of her early childhood. We see them sitting in a car behind the front window which frames Keya and Kaju and also isolate them from the world outside. The flashback begins with the very day of the pogrom. We hear noises from the street. And we see her father, her mother, her little brother and Kaju whose name was Amrit and whose pet name was Amu. Her family was part of the Sikh minority. The flashbacks of Keyas memories are punctuated by Kajus fragmental memories which are presented with emphasis. We realize the story and at the same time we witness Kaju´s emotional reactions and the kind she imagines traumatic details. There is the tiny girl who looks through a small window how the angry crowd is beating her father to death. But actually Kaju (and we) see only a mass of very hectic moving bodies. That is a moment which shows the horror of this event without any voyeuristic effect.
There is again the scared woman on the railway tracks whom we now recognize as Kaju´s mother. And we see also (what Keya tells but in which Kaju can´t remember) like policemen are just watching without interfering and how politicians are provoking from certain sistance the madness of the killing crowd. Their sentence "No Sikh shall survive," is one of the sentences which got deleted in the Indian theatrical version because of pressure of the censorship. The film returns often from the flashbacks to the car in which Keya and Kaju sit and where we see Kaju´s emotional reactions.
The revelation now reaches us. We are told that Kaju´ s family died and their story is almost forgotten in the public memory. The film does not tell how Kaju will continue her life with the knowledge of here real story. The time comes when we have to leave the fictive story and as well the character of Kaju whom we have so far accompanied. For me it has a tragic dimension. Since a very long time I haven´t seen a final scene which moved me like the end of Amu. At the station, Amu sits with Kabir on a bank. They are holding each other´shand. And at this very moment we get the idea of a more hopeful future for Kaju – the harmony is again disturbed . On television they report about a bomb assassination on a full packed train.
Again a seemingly religious motivated mass killing that makes the history of 1984 so alive to today. Slowly the camera moves over railways which are now shown from an extreme distance. We see some persons crossing the rails. I think having recognized Kaju and Kabir as well among them. Our close relationship to Kaju, built through the fiction doesn´t exist anymore. The fiction has disappeared now from the world in this film. Even though nothing happens which refers to the story – I am strangely moved like at the end of Hou Hsiao Hsien´s Hsimeng Rensheng (The Puppetmaster) or Rithy Panh´s Neak Sre (The Rice field). And while music appears we read the dedication of Shonali Bose to the memory of her mother who lived from 1943 to 1986. It is a span of only 43 years. The letters which stay a while on the image have the appearance like a tombstone. And this image still remains. A long train passes heavy and in incredible slow pace diagonally shown through the image frame. After a seeming eternity the train finally leaves the frame. Then comes the black on which the end titles roll.
There are films which show their greatness just in the kind how we are introduced and dismissed. There are the sounds of landing aircrafts at the beginning and the train in the last image which frames 100 minutes of composed (Life) time.
This film has - of course - already raised attention because of its
 delicate subject. But this attention was achieved by Shonali Bose and
 her film "Amu" only through the possibilities of the cinema. In several
 ways, "Amu", the only new narrative masterpiece which was shown at
 the Berlinale 2005, is a piece of "re-searched time" ( Temps retrouvé).
Rüdiger Tomczak (first published in shomingeki No. 16, Summer 2005)